Summer in Prague and Central Bohemia
Special Summer Offer for July and August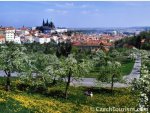 We prepared a special offer for the summer months July and August for you. Come and visit our beautiful, friendly and culturally rich country. Certainly you will not get bored and you will like it here.
We can recommend to you eg .:
- Sightseeing city tours, cruise on the Vltava river
- Trips for history, architecture and beautiful scenery - Kutna Hora, Karlstejn, Pruhonice park, Koneprusy caves ...
- Excursions to the automobile factory Skoda Mlada Boleslav or Brewery Kozel in Velke Popovice
- Relaxation program in the near waterworld Cestlice or Pruhonice Sokolovna
- Taste experience in the chocolate center Chocotopia in Průhonice
- Good shopping in the business area Pruhonice - Cestlice, shopping center Chodov or Outlet Center Fashion Arena

Rates valid July - August:
https://park-hotel-prague-pruhonice.cz/en/rooms/booking-273.html
Prices including breakfast, parking on-site parking, WiFi and VAT.
We are looking forward to your stay!
Photos